NZGDC22: What You Need to Know… Now!
19 May 2022
---
Our annual New Zealand Game Developers Conference is back and better than ever! 
We're planning an in-person event that will mark the "coming back together" of our community after some pretty turbulent Covid times for everyone.
With support from our core partners Wellington NZ and Wellington City Council plus Platinum sponsors Epic, Hublix and Tourism NZ, joined by Silver sponsors Dinosaur Polo Club and Bronze sponsors Niantic Labs and Big Mouth Voices –
Not only can we come together again across Aotearoa New Zealand, but with borders open we will welcome Australian neighbours and international speakers/guests once more!
Wondering how to get amongst it?
Here's what you need to know, now!
When and Where?
NZGDC will take place from Wednesday 17th – Saturday 20th August, 2022 in Te Papa Tongarewa, Museum of New Zealand.

What's It All About?
Our theme this year, "Together in Motion" – brought to life in our feature illustration by designer Josh – has a multilayered meaning for us. Together as an industry, we are building momentum. Our organisation is transforming too, as it seeks to match this pace of growth with the resource structures needed to support our members' aspirations.
From this we see more opportunities to collaborate across our own industry, and beyond to other industries, whose people and passions meet ours in the nexus where storytelling and technologies collide.
And so our conference programme grows to recognise the learning and networking opportunities for us in new spaces…
What's New for 2022?
While the full programme will shortly launch on the NZGDC website, our keynote speakers this year join us live and in person as they travel to New Zealand from Australia and the US respectively!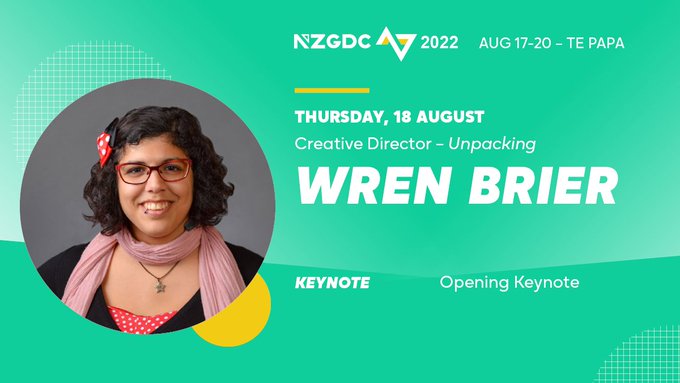 Our Speaker & Sponsors networking event is sponsored this year by Universal Music NZ and will once again be hosted at Wrestler's studio so big thanks to them!
We will curate the guest list to accomodate venue capacity.
Will There Be a Showcase?
Sponsored by Gamerfuel and CODE – Centre of Digital Excellence, we proudly launch the "Kiwi Interactive Showcase" (formerly Indie Biz Showcase) with its own brand logo – crafted by designer H Y Chai.
While it remains fundamentally a space for our PC stations to showcase new games made across the motu this year, we're excited that this event will run over 2 days (Thursday and Friday) and will be open to the general public for the first time!
In a new partnership with DocEdge, we also bring VR and AR experience booths to the area to showcase the breadth of creativity in storytelling and technology.
More information about participating in showcase will be released very soon…
And is WinGs Back?
Our WinGs – We're in Games Social event returns to the QT Hotel once more and remains FREE to attend thanks to support from Esports Federation, Amazon Web Services and CODE.
Kahu Bennett; content creator, actress, gamer and Esports Federation Women's sub-committee member, will open the event for us and welcome you to our celebration of diversity in games.
Tickets to this event are reserved on the ticket site while purchasing conference and/or workshop tickets. They always sell out first so get in fast!
Where's the (After) Party At?
The After Party is once again sponsored by Pik Pok who will turn The Grand in Wellington into the place to be on Friday 19th August. 2022 will also see a cool new alcohol-free floor available for attendees to enjoy.
A ticket to the After Party is included with your conference pass, however if you wish to buy more After Party tickets for a friend or partner to join you for example, they are available to purchase separately on our ticketing website.
How Much and How Do I Buy?
Tickets will go on sale Friday 20th May at 9am via this link.
As in previous years we have a number of ticket options available:
Full conference pass $340
One day pass $250
NZGDA member discount -$50*
We have sold out in the past and – given the excitement surrounding in-person events resuming – we highly recommend you buy early to avoid disappointment.
Venue capacity means we cannot open further ticket sales unfortunately.
We can transfer names on purchased tickets.
I'm Here to Learn: Show Me The Workshops!
Workshops will be purchased separately again this year, as per last year, as it proved an excellent way to ensure those who really wanted to be in the room, could be.
Tickets for workshops are further limited, given the room capacities, so these are likely to sell out first.
Wednesday workshop choices this year include 
Download the PDF to read in detail here
Ooh Virtual Production Day, What's That?
New for 2022 we bring a whole new day of talks and panels to NZGDC week!
The Virtual Production Day brings content curated for practitioners working across the games and film industries, particularly those in the virtual production spaces. Here we'll share best practice in Visual FX, Production, Performance Capture, Lighting, and more.
We have some truly incredible (and internationally renowned) names from both industries lined up to appear, a mix of in-person and streamed, followed by an industry social event to continue the networking.
Programme details to come, with tickets available to purchase very soon…
Student Day Returns!
Student Day returns to our Wellington hosts Massey University on Saturday 20th August.
This year features a range of workshops and talks delivered by guests speakers and sponsors from the main conference including Unreal Engine and Pik Pok, covering a range of topics from game development and publishing games, through to narrative design, networking and getting into the industry tips!
Student Day tickets are limited and available on the main NZGDC ticket site. We also have student discounts available for the main conference tickets: email events@nzgda.com for more info
How To Secure Your Limited Edition T-shirts!
Alongside tickets being available on Friday 20th May, you will also have the option to pre-order a LIMITED EDITION NZGDC22 T-Shirt with your ticket!
Priced at $40 and featuring our illustration by the talented @joshprobably_, sales will close on July 30th.
We can't wait to welcome you to NZGDC 2022!