The NZ Game Developers Association is a not-for-profit organisation run by a diverse group of game developers from around New Zealand.
Candidates were elected at the Annual General Meeting of the NZ Game Developers Association on 5 November 2019.
Enquiries can be directed to Chairperson Cassandra Gray (chairperson@nzgda.com) and the Board Members (info@nzgda.com).
Chairperson
Cassandra Gray
Cassandra is the current Chairperson of the New Zealand Game Developers Association.
Since joining the industry Cassandra has been committed to making the games community a more inclusive place through community involvement. As well as her work with the NZGDA she was a member of Wellington's Play by Play Festival committee in 2018 as the Volunteer Manager, and returned to the NZ Games Festival committee in 2019 as the Developer Events Manager. In addition to this, she was also a mentor for the 2019 Wellington cohort of the Working Lunch mentoring program.
In 2018 Cassandra was recognized as one of Trade Media's featured Women In Games among 50 other incredible women from the ANZ games industry, and in 2019 she was recognized as part of Develop Pacific's 2018 30 Under Thirty list.
Board Members
Zea Slosar
Zea is the Secretary of the New Zealand Game Developers Association.
She has a decade of experience working in Production, QA, Community Management and Creative Design for digital media, games, and film. Zea is a multilinguist and has lived in Europe, South East Asia, and Oceania working across a number of game and film studios of varying scales, such as Bohemia Interactive and Starlite Pictures in Prague and Rocketwerkz and Pepper Creative in New Zealand.
Zea has given NZGDC conference talks and workshops and delivered a number of guest lectures in recent years. She is passionate about gender and cultural diversity in NZ's game industry, workers rights, education, and helping indies with establishing and maintaining well-rounded development practices. Zea wants to see the NZ games industry reach its full potential, to be a truly inclusive and open place where resources, knowledge, and opportunities freely flow between individuals, businesses, and regions.
Lucy Weekley
Lucy is a QA Analyst at Weta Gameshop, the game department of Weta Workshop, that has recently released the ground-breaking title "Dr. Grordbort's Invaders" on the Magic Leap One. She has been in the game and tech industry for 9 years, having lived and worked all over the west coast of the United States before moving to New Zealand in 2017. She is the project manager of NZGDC19 and the NZGDC19 Committee Chairperson.
Emre Can Deniz
Emre Deniz is a multi-award winning game and technology developer based in New Zealand, responsible for founding the Opaque Space and the Earthlight franchise, and currently working as the Art & Studio Director of the Wellington-based Mayday. In the past 6+ years, Emre has been involved as an artist, producer and game designer in various VR/AR productions with clients and collaborators ranging from NASA, Boeing, United States Air Force, HTC Vive, Epic Games, Microsoft, Google and the Australian Defence Force. After winning multiple industry awards in 2017 and 2018, including three Australian Game Developer Awards ranging from Game of the Year to Studio of the Year, Emre oversaw the invention of the 'Adaptive Intelligent Virtual Assessor', which went onto secure commercial contracts for XR training in both the Australian Defense Force and the United States Air Force.
In 2019, Emre joined Joshua Boggs, of Framed, as the Studio and Development Director of Studio Mayday, a New Zealand based studio focused on creating innovative storytelling and genre defining games. He has been an active advocate for workplace culture and inclusive studio building, having appeared on panels and talks to raise awareness on these topics in industry events such as NZGDC, GCAP, GDC and 4C Prague.
Zoe Hobson
Zoe is the Managing Director of Runaway Play, an independent game developer and publisher making beautiful games inspired by the natural world. Runaway Play is located in Dunedin with 27 staff and makes games for players from all over the world – Runaway games are played by over a million people every month. Zoe has a strong background in the media industry. Prior to entering the games industry, she worked in Media, Television and Film for 15 years. Zoe was awarded the 'Future Business Leader' award at the 2014 Obiz Awards. She has been a speaker at NZGDC, is a board member for NZGDA and Startup Dunedin and is a key contributor to Runaway's #GirlsBehindTheGames campaign.
Stephen Knightly
Stephen is Managing Director of serious games, mixed reality and gamification studio InGame in Auckland. Stephen has made serious and educational games for TVNZ, Civil Defence, ACC, University of Auckland, NZ Fire Service, Dairy NZ and more, and spoken on educational games at TEDXAuckland, ULearn and other conferences. He has been a mentor for the Lightning Lab accelerator programme, Startup Weekend and the Kiwi Game Starter.
He has also worked in marketing locally and in Europe for the likes of Xbox, MTV Games, Microsoft, Facebook, IBM and local game studios including Grinding Gear Games. He is also a director of tech marketing agency Pursuit PR. Stephen represents the NZGDA on the advisory groups for creative industries coalition WeCreate and the Serious Games Australia & New Zealand Association.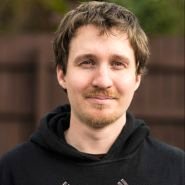 Andrew Lamb
Andrew is the Co-Founder of Camshaft Software, the Melbourne founded and (since 2014) Wellington based studio behind 'Automation: The Car Company Tycoon Game'

He founded the Game Developers of Wellington meetup group, which has been running monthly game dev lectures and meetups since May 2014, and helped start Global Game Jam in Wellington.

He is also a part time lecturer for the games related aspects of Massey University's Creative Media Production Degree

His priorities this year are to help make NZGDC19 the best conference it can be, and to work on improving the quality of Game Development education in NZ so that employers can count on the skills of graduates, and students get the training they need to embark on a career in games.
Tim Ponting
Tim Ponting has 30 years' experience in the games industry, initially as a multi-award winning journalist and publisher of music, technology and videogame magazines and websites, followed by five years at Activision as European PR Director where he was responsible for strategy and execution of all comms campaigns across the EMEA region. Achievements include launching the Call of Duty and Guitar Hero brands. Since 2007, Tim has been a director of Renegade PR and other projects including IndieDevKit, driving communications for videogames – both for publisher franchises and smaller independent projects, where his heart lies.
Tim is a director of and investor in Spotted Kiwi, an Invercargill-based game development company launching its debut title XERA: Survival in 2019.
Mead Robertson
Mead is a recent graduate of Massey's Creative Media Production degree, currently doing a Graduate Diploma at Weltec to work on game animation and programming. Mead's focus is on providing support to recent graduates and students, at both secondary and tertiary levels, who are trying to or interested in entering the games industry. She has made multiple visits to her old high school to discuss game development options to interested students, as well as volunteering at Massey's Immersion Day to give high school students a taste of what game development classes are like at a tertiary level.
Mead has been both a volunteer and MC at the NZ Games Festival, as well as a participant in the 2019 Wellington cohort of the Working Lunch mentorship program. She wants to use her experiences to not only help get more students into the New Zealand game development community, but also improve the quality of games education.