The NZ Game Developers Association is a not-for-profit organisation run by a diverse group of game developers from around New Zealand.
Candidates were elected at the Annual General Meeting of the NZ Game Developers Association on 11 September 2018.
Enquiries can be directed to Chairperson Cassandra Gray (chairperson@nzgda.com) and info@nzgda.com.
Chairperson
Cassandra Gray
I'm the Assistant Producer at Weta Gameshop, a partnership between Weta Workshop and Magic Leap based in Wellington. I moved into production after ten months with the studio, having originally been hired as studio coordinator during my second year of studying Game Design and Production in Melbourne, Australia. An admin for Facebook group 'Women + Non-Binary People Studying Games' and recognised as one of 2018's featured Women In Games by MCV Pacific, I'm passionate about making the industry a more diverse and inclusive place.
Since moving to New Zealand I've been constantly on the lookout for ways I can help grow New Zealand's amazing games community. So far these have included joining the Play by Play festival committee as Volunteer Manager in 2018 and Developer Events Manager in 2019. In addition to Production, my background is in Quality Assurance, Event Management, Retail Management and Community Management.
As an NZGDA Board Member I'd like to focus on the following areas:
Supporting underrepresented members of the games community through events and initiatives, with the intention of helping people create support systems, facilitating networking opportunities both online and in person, and creating opportunities for career development and learning.
Creating initiatives to foster and strengthen the relationship between the New Zealand and Australian games industries.
Supporting young people and students interested in game development, particularly those from underrepresented communities. Last year I was fortunate enough to meet some incredible students from Rarotonga who are studying game development, and I want to do my part to ensure that they and students like them interested in pursuing games further have the opportunity and support to do so.
Assisting the board in continuing to grow and strengthen the government's support of the games and tech industries.
Using my background and experience in event management to assist the NZGDA in continuing to put on amazing events for the local industry!
Board Members
Lucy Weekley
I am a QA analyst at Weta Gameshop/Magic Leap, and am about to celebrate 8 years in the gaming and tech industry in September. I cut my teeth with a few years at Nintendo of America, then spent several years with Sonos, testing proprietary wireless speaker technology and applications.
I fell in love with the NZ game industry when I visited to volunteer at the Play By Play Festival in 2017. After deciding to take a leap of faith and leave my life in the United States behind, I happily returned to the game industry to work on the ground-breaking Magic Leap platform, and left Seattle for beautiful Wellington. I love the tiny and tight-knit NZ game community, and as a board member I would want to focus on outreach, both for youth and for skilled professionals who may not currently see NZ as a viable place for a career in the game industry.
While in the States I participated in multiple youth outreach programs for gaming/tech, including ChickTech (focused on primary/secondary school girls) and Hour of Code, a program to get secondary school students excited about programming. While getting the next generation fired up about the tech industry is important, I've also seen first hand the shortage of skilled, experienced workers that NZ is currently grappling with. Many of my peers in the States and beyond don't have New Zealand on their radar — yet! I want to showcase the charm, vitality, and inclusivity of this burgeoning industry to help attract talent from around the world to this beautiful country.
Kiara du Toit
I graduated from the University of Auckland in 2013 with a BSc in Anthropology and worked as a gallery assistant/public educator at Auckland Art Gallery Toi o Tāmaki before being drawn back to uni to study game art. Throughout my study I volunteered within my community: as a student leader at Media Design School, for the MDS Girls in Games program, at NZGDC and Play by Play, and further afield for GCAP and PAXAus. I am drawn to roles where I feel I can make a difference in people's lives for the better in terms of education, helping them achieve and fostering better experiences. In 2017 I was awarded a scholarship to attend GDC in San Francisco by the NZGDA, and in 2018 was a recipient of the IGDA Scholars award to attend GDC again; something I don't think I would have had the confidence to apply for without the boost from the NZGDA the year before, and I firmly believe in giving back as good as you receive.
As a board member of the NZGDA I would like to continue supporting community events, and promote opportunities for the younger and older members of the NZ games industry to meaningfully connect while benefiting equally.
Bryan Cohen
I am an 11-year Game Development veteran who has worked on both AAA and Indie titles. During that time I have had the good fortune to work in numerous facets of the Game Development process, including but not limited to Design, Art, Coding, UX, UI, and Narrative.
I've been a passionate gamer for 26 years, spending much of that time helping to develop online communities focused around 'good play' and eliminating toxicity. I am currently a Game Designer at Weta Gameshop working on game experiences that ferry the future of both gaming and entertainment. We are currently developing for the Magic Leap, a mixed reality headset released this year, focusing my efforts on interaction and game flow. I recently gave a design focused talk at NZGDC2018 on creating meaningful tutorials.
What I plan on offering the NZGDA board:
Offer my years of diverse experience to the NZGDA board to help facilitate growth in the New Zealand games industry
Work with smaller independent studios and teams to help them, in turn, grow the NZ games industry further
Provide aid to enrolled and recently graduated gamedev students with insights and advice on their first steps into the industry
Assist in planning Game Dev events and meet-ups in the future
Games, and by extension the games industry, are so very important to me. Since I was very young I developed a focused intent on spending my life working on games; how we can utilize their amazing power to help change the world. I believe together on the NZGDA we can work towards accomplishing this goal.
Zoe Hobson
Zoe is the Managing Director of Runaway Play, an independent mobile game developer and publisher making beautiful games inspired by the natural world.
Zoe has a strong background in the media industry. Prior to entering the games industry, she worked in Media, Television and Film for 15 years. Zoe joined the team at Runaway Play in 2015 as a Senior Producer and has had a particular focus on leading the setup of the Publishing side of the business. Zoe moved to the role of Managing Director in 2016, where she oversees company vision, culture, business development and strategies.
Zoe was awarded the 'Future Business Leader' award at the 2014 Obiz Awards. She has been a speaker at conferences nationally and internationally, is a board member for NZGDA and is a key contributor to Runaway's #GirlsBehindTheGames campaign.
As a board member for NZGDA, I would have the following areas of focus:
Diversity. I would like to encourage women to be confident in their career paths, and help more women to accelerate their careers and move into senior positions. We are actively working on this at Runaway, and are part of opportunities like Shadow Tech (mentoring female high school students) and working with local Women in Tech groups. I would like to continue to encourage this on a national level.
Knowledge sharing. To promote knowledge sharing within the industry. We firmly believe in transparency within and outside our company – I would love to help facilitate knowledge sharing between studios on a national level, and in particular between established studios and new graduates/newer studios.
Management. I would bring my knowledge and experience from being on other boards and my management background to NZGDA to assist with organisational matters within the board and projects/events.
Stephen Knightly
I am a current NZGDA board member and Secretary and would love to continue to serving on the Board to keep growing our industry to provide board continuity.
Over the last year I've managed the NZGDA's finances and admin, which have grown as the Association's activities have scaled up. I've also led our annual industry survey and work with government departments, including a report on interactive media currently underway with MBIE and NZ Tech. I chaired the serious games panel at NZGDC18.
My involvement in the industry includes founding the Auckland Game Developers Meetups in 2008, organising the first Global Game Jams in Auckland in 2010 and 2011, running the first modern NZGDC in 2012, coordinating our annual industry survey for many years and launching the KiwiGameStarter in 2014. I was Chairperson of the Association from 2011-2013 and again in 2015/2016. These activities have successfully been handed on to other NZGDA board members and volunteers as we have grown our ambitions.
In my day job I'm Managing Director of serious games and gamification studio InGame in Auckland and have consulted to or mentored several other New Zealand game studios and projects. We've made serious games for ACC, NZ Fire Service, Diary NZ and more. I've previously worked in the tech industry for the likes of Xbox, Microsoft, Facebook, IBM, Fonterra and several universities. I am also on the board of creative industries body WeCreate, who advocate for game developers too.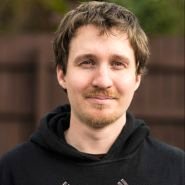 Andrew Lamb
I'm the Co-Founder and Lead Artist of Wellington based PC games studio Camshaft Software, as well as the organiser of the Game Developers of Wellington meetups, part time Massey University lecturer and sometimes organiser of Global Game Jam Wellington.
I was on the board this year, and am keen to come back next year, with a particular focus on improving the quality of games education in New Zealand, giving opportunities to talented graduates, and supporting small studios to get off the ground.
Tim Ponting
I'm a passionate supporter of game development in NZ and under the wing of Renegade PR, I am now entering my third year of sponsoring Kiwi Game Starter with support for winners – feel free to ask them for their opinion! I have run marketing workshops at NZGDC for the last 2 years and curated the Business and Marketing streams in 2016 and 17. I am the biggest critic of my own specialised area of the business – marketing communications – and keen to share the value of my years of doing things right (and wrong) for the benefit of the industry here.
I have a long career internationally – 13 years editing and publishing video game magazines and websites in the UK, then 5 years as head of comms for Activision Europe, before founding an agency 12 years ago with a global roster including Warner Bros, Activision, LucasArts and Disney. I decided in 2012 I liked Indie games more and ever since, our income reflects that of our clients! Until recently I ran games meetups and GGJ for Dunedin and am still very much involved in local support for the industry.
I've not stood up before because of commitments and a feeling that I'm a new kid; but I'm now in my seventh year living here, and want to dedicate time and energy to help grow the industry. I'd like to ensure Kiwi Game Starter continues to thrive; and I'd love the opportunity to leverage my experience from EU markets to help guide government (both local and national) to make sustainable decisions that will survive political administration changes.
Though I have no experience of government relations I have good contacts with industry bodies in the EU that may help us with case studies and research and I have recently learned how to iron a shirt for meetings with people who notice such things. I would love to support further the work carried out in the ANZ region to champion diversity and recognise the outstanding work carried out so far – we have a long way to go. I'll stop now.
Mead Robertson
I am an animator and programmer, close to graduating Massey University's Creative Media Production degree. I've been interested in games and animation as far back as I can remember, and have worked hard to learn as much as possible during my studies.
While I do not yet have experience working in the industry, I have a recent student's perspective on how game development is taught at tertiary and high school levels, as well as how schools are promoting these courses, and where they fall short. I am running for an NZGDA board member position in hopes of sharing this perspective and the opportunities that it presents. I feel my age and background would add to the board's diversity.
Outside of my studies, I have been actively involved in game development in a variety of ways. I was lucky enough to be a volunteer at the PlayByPlay 2018 festival and then later at Massey Wellington's Immersion Day, where I helped run their game development class for high schoolers interested in a taste how game is taught at university. I have also made multiple visits to my old high school to talk to Media Studies and Digital Technology classes about game development options at a tertiary level and how to begin networking and meeting people who are already in the industry.
A focus of mine as part of the NZGDA would be to use my experience as a student to build more support for students looking to get into the industry, as well as work on improving the quality of games education. I believe increasing the input of women in NZ game development could further grow the industry. I have received tremendous support from female mentors, and would value the opportunity to provide similar encouragement and guidance to the next NZ game developers.